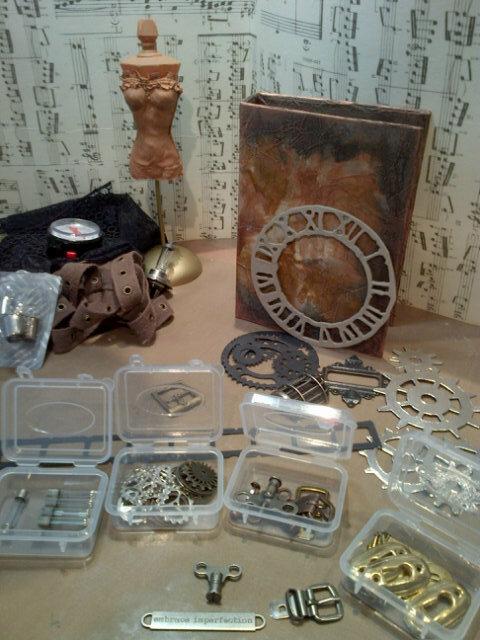 Hello Fellow Deskers from Julia's place and visitors from
Blacksburg Belle
!
Above you see me "shopping my stash" for the worn cover I was busy with on the week-end...not much has happened on my desk since then!
Here is the finished worn cover.
Since finishing my cover and putting it "out there", I have had many peeps asking me to teach it which got me onto the subject of doing on line classes...the only question I have is how?
This got me thinking about all the work I put into the creative classes I teach and have been wondering how to make them into online classes...The answer I think is in the course I am about to attend by April Bowles-Olin on
CreativeLive
on 10 & 11 November.
April asks us to pick one of 5 questions to answer as to why we want to do this course and I am going to answer 2 because I think they are pertinent to me.
Q) Why you want to learn how to create and sell digital products
A) Who doesn't want to earn money while you sleep? That is just so appealing! I have taught real in person classes to students for 17 years and the amount of work in both prep and time is the same if you do it for a video camera or for an in person class(if you exclude the kits!). The only difference is that the in person class is taught once (has kits which take hours to prep) and can only earn me so much...where as an online class can be repeated at the press of a button and can be earning me money every time someone purchases it and there are so many more viewers on line!
Q) The biggest questions you have when it comes to selling digital or information products?
A) Apart from the classes, I want to create digital cut files to sell. How do I know if they will work on all the different machines out there if I only have one of them in my studio to test it on?
I also want to create videos. We do not have great bandwidth here in South Africa and I am worried about the quality and what camera and programs to use to edit it.
So my fellow Deskers, I know this post has been long and wordy...I am in no way affiliated with April or CreativeLive, but thought I would share this with you as we are all creative in some way with some or other medium and this is free!
This is the blurb off her blog: "
Are you ready to make your creative work more lucrative, stable, and sustainable in the long-term? Join April Bowles-Olin for an introduction to digital products and how they can enhance your creative business. This course will show you how to produce and position viable products for generating multiple revenue streams and passive income. RSVP right here to watch it live and get access to the workbook for FREE. This post is part of the Create Digital Products blog tour.
"