Taken of Lunch Lady Jan's page:
Edited 12.42 GMT. There will not be a WOYWW link today, I've just heard from Julia, she has been taken ill whilst on holiday and is in hospital. Not life threatening but she is not well. PLEASE do not email her, if you want to send a message, then do it through me. She won't be home until next week, so I don't know if there's going to be a WOYWW next week either. Sorry, I don't have any more info at the moment but will let you know with updates as soon as I get them. Jan xx
Hello Fellow Desker from
Julia's place
over at Stamping Ground. Welcome to my desk in Cape Town, South Africa where it is 3 Degrees Celsius outside at the moment at 7:30am. We kid ourselves that it does not really get cold or hot here and therefore our houses are not designed to cope with either! I am walking around with a hot waterbottle to keep warm!
Before I talk about the mess on my desk, here are the wonderful goodies I got via my good friend
Ali H
who took my ATCs to swap at the crop for me and posted this parcel of artistic goodness back to me!
I have received ATCs from: Sam (Hettiecraft), Lynda Beazley, Maggie C (Silvercrafter), Debbie (Tatteredrocks) (acrafterslife), Shazsilverwolf, Elizabeth (Bluebeard and Elizabeth), Ali H (Craft Cauldron), Pearshapedchris, Minxy (the altered inker), Julia Dunnit herself! Zoe
The tag is by Debbie of Tatteredrocks and the yummy smelling lavender bag is from Lunch Lady Jan. The card and two stamping Mags are from Ali H who put this all in the post for me. So very grateful to all of you for my stash.
My desk is the fall out zone of the star card project I have been working on to enter this weeks Compendium of Curiosities 3 challenge over at
Linda's place
. I will be doing a proper post about that now that I have finished it. It took a little longer than anticipated due to Marmalade discovering his own personal warm sun under my desk light!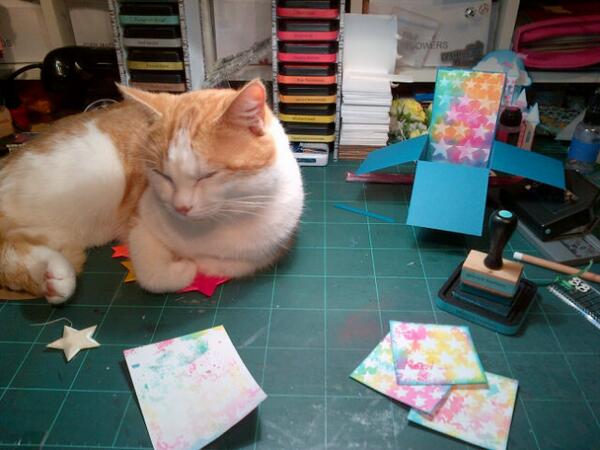 That's all from me, I am off to see if our leader has Mr Linky back or if he is still on Holiday with her!
thanks for the visit and comments.
Bella