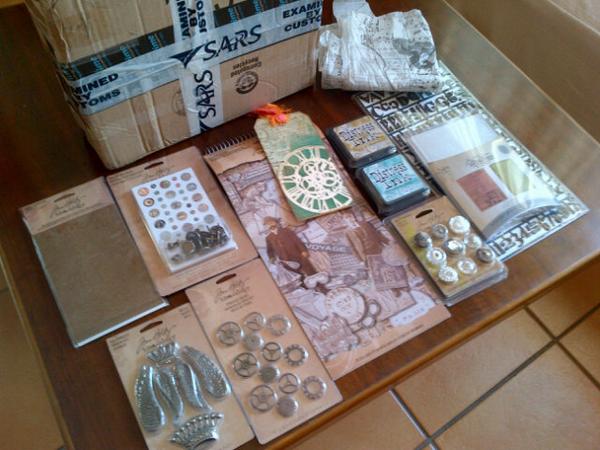 A few weeks ago I entered my Truth canvas into the Compendium of Curiosities book 3 challenge 4 over at Linda's place called
StudioL3
. I was the chosen winner for the prize sponsored by Tim Holtz and Mario Rossi! It has taken a while to get here because it would seem it has had a bit of a history!
Linda emailed me two weeks ago to say she had relieved the parcel back in a plastic bag from US mail and it looked rather like they had heard a noise and reversed back to see what it was...thankfully she had some extra prizes and replaced the damaged items in the parcel and re-posted it to me. I am most grateful to her for all her effort. Customs on this end had no respect for the pretty tissue paper she had wrapped it in and ripped that open to shreds to see what was in my gift! If only they knew that it was not JUST WRAPPING PAPER, but rather a highly prized art material! They kindly put the few shreds left back into the parcel and re-sealed it, bunch of uncouth rotters! But I digress!
One of the lovely items in my parcel was an embossing folder that I have had my eye on for quite some time. I don't know about you, but when I get something new, I have to test it right away! So I rushed to my Vagabond and ran a piece of white Bazzil cardstock through both folders in the set called Collage & Notebook. The collage one worked perfectly, but the notebook one cracked.
So I tried doubling up the paper to see if this would help which it did up to a point.
Below is a close up of the right hand side where you can see that the raised lines are not smooth, but a bit cracked.
Below is a close up of the left hand side where you can see that it still cracked slightly between the lines.
Then I remembered how we used to damp our paper for printing etchings to stop the paper cracking where the plate edge was and so I spritzed the paper
LIGHTLY
on both sides with water, let it sit for a few minutes to soak in and then ran it through my VB. VOILA! success! It came out PERFECTLY! so there is a little tip for you if some of your embossing folders are cracking the paper! Below is a close up on the left and the full sheet I spritzed on the right.